Twenty Thousand Leagues Under The Sea
Twenty Thousand Leagues Under The Sea is the stage adaptation of the classic Jules Verne Sci-Fi adventure, exploring the power of nature and the nature of power. Plunge into a multisensory experience with unforgettable characters, eye-popping projections and interactive audience technology. This family-friendly show encourages us to connect for the future.
More about the show & gallery...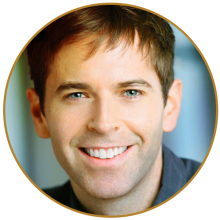 Brendan McMahon
Jules
Brendan is so thrilled to be joining this amazing ensemble and creative team, and to be performing at Asolo! His credits include The Rite of Spring (Lincoln Center, NYC), The Firebird (Lincoln Center, NYC), La Divina Caricatura (Public Theater, NYC), Manipulation (Cherry Lane Theatre, NYC), The Tempest; A Christmas Carol; Playing Moliere (New York Classical, NYC) The Cat Who Went to Heaven (Brooklyn Academy of Music) Henrietta Hermaline's Fall From Great Heights (Ensemble Studio Theater, NYC), Don Cristobal (St. Ann's Warehouse, NYC), The Maids (Egress Theatre, NYC), Petrushka (Shakespeare Theater, Washington DC), Parlour Song (Quantum Theatre, Pittsburgh), l'Arbre Enchanté (Fire Island Opera Festival), Aladdin (Emerald City, Chicago), Romeo and Juliet (Jewish Ensemble Theatre, Detroit) Médée (Theatre Lumen, Brussels, Belgium). He is also a theater director and a Professor of Theatre Performance at SUNY Purchase, New York. He lives in Brooklyn with his incredible and beautiful wife, Angie.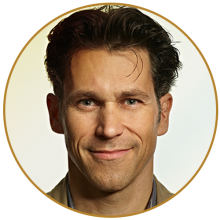 Rick Miller
Co-Creator/Director
Rick Miller is a Dora and Gemini award-winning writer/director/actor/musician/educator who has performed in five languages on five continents and who Entertainment Weekly called "one of the 100 most creative people alive today". He has created and toured solo shows such as MacHomer, and (w. Daniel Brooks) Bigger Than Jesus and HARDSELL. With Robert Lepage, he has collaborated on Geometry of Miracles, Zulu Time, Lipsynch, and on the film Possible Worlds. As the artistic director of WYRD Productions and co-creative director of the Kidoons Network, Rick has most recently developed the stage shows BOOM, Twenty Thousand Leagues Under The Sea, and GAME of CLONES, as well as several web series that educate, enlighten, empower and entertain young people. He also teaches an interdisciplinary class at the University of Toronto called The Architecture of Creativity. Rick is from Montreal, and lives in Toronto with his wife Stephanie Baptist and their two daughters.
Contact
Brendan McMahon
Jules
Rick Miller
Co-Creator/Director
Craig Francis
Co-Creator/Producer/Co-Director (online)
Serafin Falcon
Captain Nemo
Suzy Jane Hunt
Professor Aronnax
Marcel Jeannin
Ned Land
Deco Dawson
Projection Designer
Itai Erdal
Lighting Designer
Richard Feren
Composer & Sound Designer
Yannik Larivée
Set, Props and Costume Designer
Peter Eaton
Production Manager / Technical Director
Crystal Salverda
Stage Manager
Andraea Sartison
Assistant Director
Shawn Kettner
Puppet Designer
Marcus Jamin
Puppet Designer
Irina Litvinenko
Multimedia Project Manager
Hanna Puley
Additional prop design
Guifré Bantjes-Ràfols
Assistant Technical Director
Laura Johnson-Sherratt
Associate Lighting Designer
Rebecca Vandevelde
Assistant Production Manager
Jeff Lord
Executive Producer
OLOBOTICS
App and Enchanted Reality Development